How To Achieve Cleanroom Safe Handling of Chromatography Columns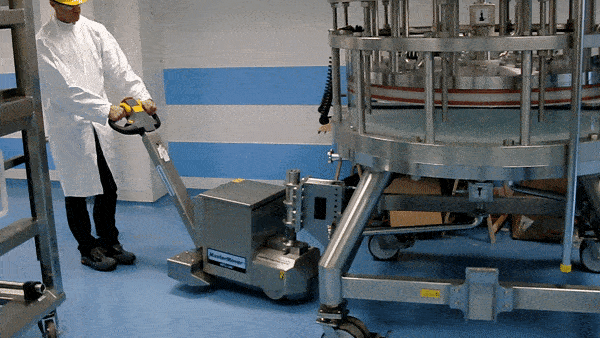 Major names in the pharmaceutical industry are using electric tugs from MasterMover to move chromatography columns, thanks to the tugs' ideal combination of heavy load handling, compact size, precise manoeuvrability and stainless steel construction.
The Challenges of Moving Heavy Chromatography Columns
Chromatography columns, used to separate chemical compounds before use in pharmaceutical manufacture, are a vital step in the production process, but moving them can be a time-consuming operation. To avoid downtime and ensure scalability, manufacturers depend on specially designed process-scale chromatography columns capable of purifying large volumes at high velocity.
Such equipment presents a unique challenge because, while the overall weight of a column can be as much as 11,000 kg and above, it incorporates a large number of fragile components that must be handled delicately. Furthermore, the columns must be moved within laboratory environments subject to strict cleanroom conditions, limiting the type of handling equipment that can be used.
Discover a Safer Way to Move Heavy Chromatography Columns
The MasterTug from MasterMover is a pedestrian-operated electric tug, which offers significant advantages for moving large-scale chromatography columns. As the tug works on the principle of weight transfer, a single operator can easily tow the column on a trolley in a controlled and low-speed manner, in order to guide the sensitive columns into place.
Similarly, because it is electrically powered and takes up minimal floor space, it can be taken into a cleanroom without compromising hygiene or the risk of knocking into valuable pharmaceutical equipment.
Making the Move From Manual to Mechanised
In the biopharmaceutical industry, the need to move heavy equipment and reconfigure suites is a common practice. However, this manual handling process poses several risks, including the potential for injury, equipment damage, and decreased suite uptime. As a result, many manufacturers are actively seeking ways to improve the efficiency and safety of moving heavy cleanroom equipment.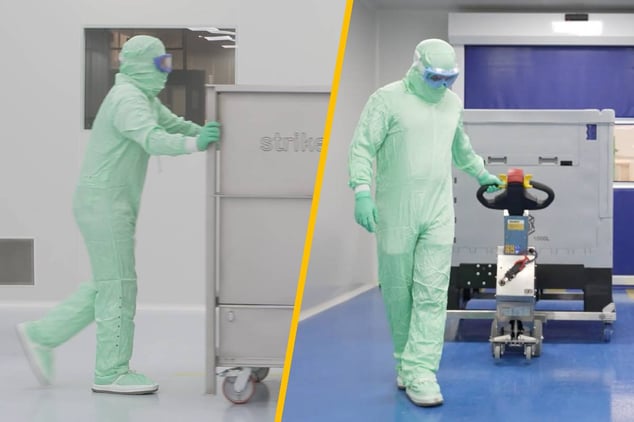 As part of this, cleanroom equipment such as chromatography columns, media buffers and more are becoming mobile, with manufacturers fitting wheels to a wide range of equipment. However, wheels alone do not reduce the risk of injury and manufacturers need to look to mechanical aids such as electric tugs to:
Improve safety
Boost productivity
Increase suite uptime
Maximise flexibility
Reduce suite changeover times
Other Biopharma & Cleanroom Material Handling Solutions
In addition, the SmartMover is a versatile and compact solution that excels at moving smaller loads weighing up to 1,200 kg with ease and safety.
Both the MasterTugs and SmartMovers are available with cleanroom-grade stainless steel, enabling them to seamlessly integrate into your cleanroom.
What do Electric Tugs Move in Pharmaceutical Manufacturing?
Electric tugs are used to safely and securely move a wide range of delicate, sensitive and valuable items in the pharmaceutical industry. For example, they are often used to move loads such as:
• Single use mixers
• Totes, bioprocess containers & media buffers
• Agitators
• Tanks, reactors and vessels
• Refrigerated cabinets
• Raw materials