Roll Cage Mover Improves Efficiency In Busy Mail Distribution Centre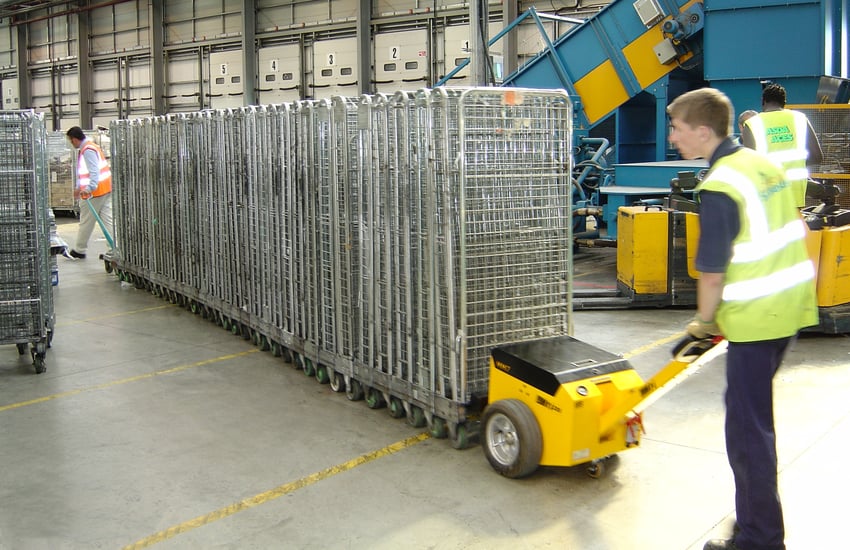 MasterMover electric tugs are helping major companies in the mail distribution sector to increase their speed and efficiency when moving nested roll cages.
At national and regional distribution centres across the UK, customers in the mail sector have a requirement to move up to 3,000 empty roll cages per day across each site.
Strict health & safety regulations limit the number of roll cages that warehouse operatives are permitted to move manually. This can be as little as three roll cages per journey, which is a huge drain on productivity and resources.
MasterMover has provided electric tugs from its MasterTug range as well as pushers from the MasterPusher range to increase the number of cages that can be moved in a single journey.
MasterPushers are the most effective way to move large wheeled loads, requiring only two operators – one to push, one to assist with steering the cages. For example, an MP50 can comfortably move 30 nested roll cages per journey, and will push as many as 50 in optimum factory conditions, improving the customer's current efficiency at least five-fold.
Where space is at a premium, MasterTugs are designed for more controlled movement of up to 15 strapped cages. They can be connected either to full or nested roll cages, and requires only one operator to pull, again ensuring a five-fold improvement in quantities moved per journey.