Leading Timber Merchant Creates More Space To Increase Production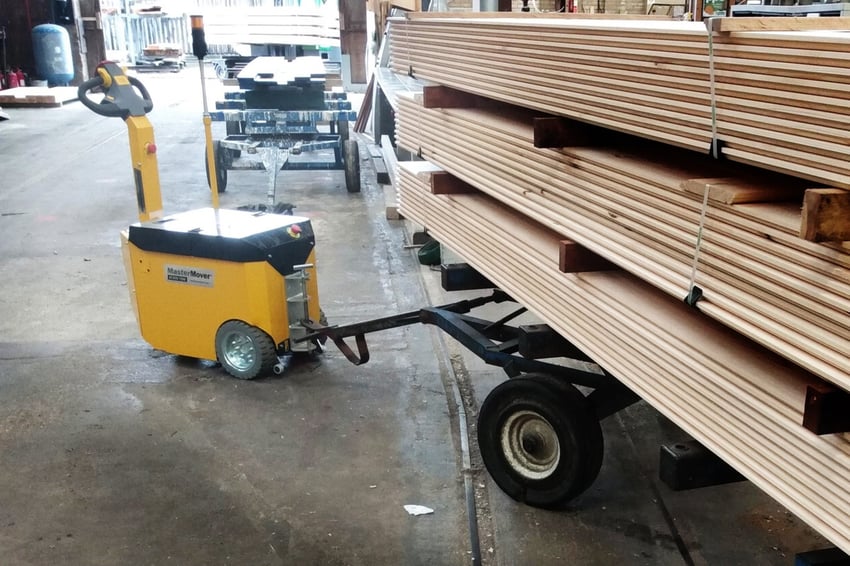 Forklift trucks have been swapped for an electric tug after Covers Timber & Builders Merchants implemented a layout change designed to improve safety and use of space.
The company, which has been in business for 175 years, has locations across the South of England as well as a timber mill at its Head Office in Chichester.
Before the layout change, forklifts were used to move the packs of timber into and out of the mill. These were large and powerful, but the size restricted the space utilisation of the processing capacity.
Production Manager Peter Openshaw explained: "We changed the layout of our mill to increase production capacity which meant that a forklift was no longer able to move the heavy loads into position due to its size.
"We heard about MasterMover after doing some research trying to find a solution to our problem. We needed huge strength but small size and excellent manoeuvrability."
Now, a MasterMover electric tug is making all the difference, freeing up some much-needed additional space and improving staff safety too.
The TOW300 can tow loads of up to 3,000kg, has anti-slip and puncture-proof tyres, an automatic tiller cut-off and options including a switchable steering mode. Fixed steering is ideal for manoeuvring larger, heavier loads, while the switch to direct steering gives full control when moving connected loads through space-restricted areas.
Peter continued: "Use of a MasterMover has enabled us to use a bit of the mill layout for vastly improved production ability and better, faster customer service – space that was previously set aside for forklift movement.
"It is also far safer, meaning we can now carry heavier loads on stock trollies as finished goods were previously moved around by hand."
Improving safety and production capacity in confined and congested areas was a clear driver in making changes to the layout of the mill.