Cage Mover Aids Hospital Efficiency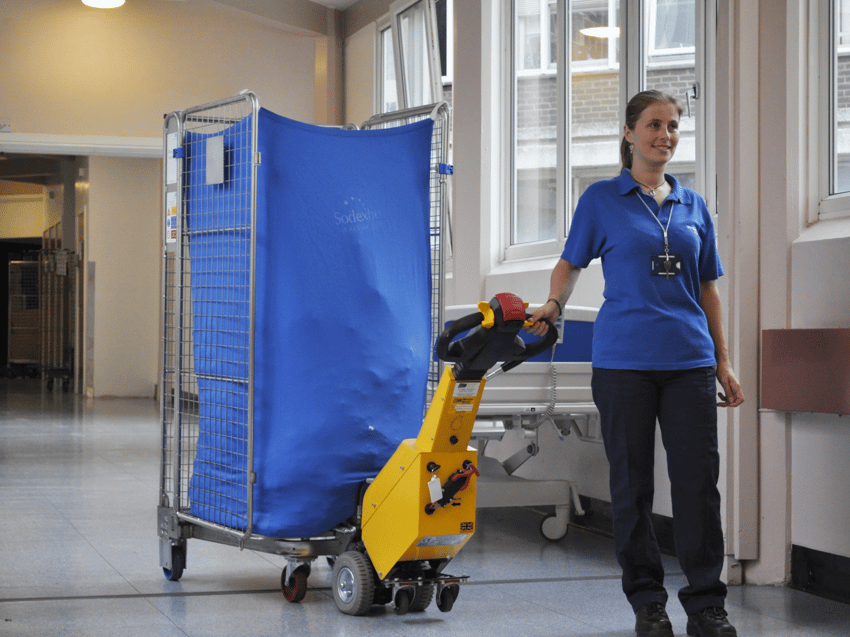 Hospitals using the SmartMover electric tug, designed and manufactured by MasterMover, for the mechanically assisted handling of roll cages have experienced a rise in efficiency and a reduction in health and safety setbacks.
"There are few environments where transportation is as essential as within a hospital. The vast infrastructure depends on a small army of porters who – when not engaged in moving patients – are required to move laundry, medical notes or pharmaceutical stores along miles of internal corridors," explains Andy Owen, Managing Director of MasterMover.
"Roll cages are the pivotal means of moving these items, but they can present potential drawbacks when handled manually," he adds.
Efficiency is significantly compromised because each porter can only move one – or, with difficulty, two – roll cages at a time. The result is that portering resources better deployed for service delivery are held up.
Safety is also an issue with manual handling, as a loaded roll cage can carry up to 500 kg, which places a huge strain on porters. And should a porter try to move more than one roll cage, they present a hazard to hospital users because of limited line of sight.
With the SmartMover electric tug, moving roll cages becomes a simpler, safer and faster affair. A porter can move up to six roll cages in a single journey without danger of injury, freeing up resources for patient-facing duties.
At the same time, because the SmartMover is pedestrian operated and compact, it can function in all hospital environments, including busy or narrow corridors.