The MasterTow range of powerful, easy-to-use electric tow tugs, is ideally suited to towing loads weighing up to 20,000kg. The range uses its own weight to deliver consistent traction, enabling the effortless movement of loads both inside, outside and on slopes.   
Boasting intuitive operator controls and safety built-in as standard, the range provides operators with complete control when moving heavy loads. With a simple and effective coupling system, the MasterTow range guarantees load security and is perfectly suited to moving individual and multiple loads linked together.  
Take advantage of innovative technology with Electric Steer (ES), available from the TOW600 ES upwards. With Electric Steer, benefit from instantaneous steering and added performance in adverse conditions. The MasterTow range is available with Remote Control, for maximum operator visibility, and Autonomous (AGV) solutions for maximum ROI, safety and efficiency. 
MasterTow Key Features
You need a high quality, durable electric tow tug that doesn't compromise on safety. The MasterTow range is packed full of features that maximise operator safety when moving wheeled loads.
Download technical datasheet
Safety & machine options
With an array of features and coupling options available, the MasterTow can be used to move single loads or multiple loads linked together in a train or milk run system.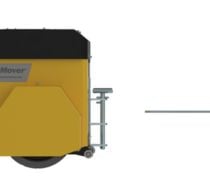 Tow pin
Works with a range of drawbars allowing easy and secure connection every time.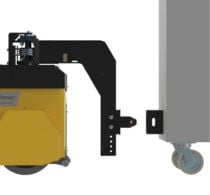 Box coupling
A perfect solution – and a secure connection - for use on rough surfaces.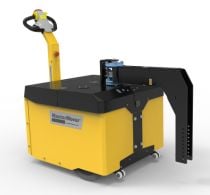 Fifth wheel
Delivers precise movements when pushing alongside box coupling.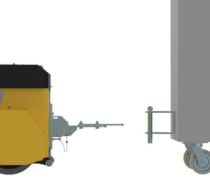 Towing arm
Create a secure connection to existing pin systems.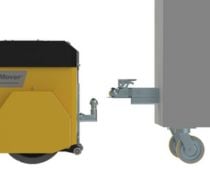 Tow ball
A simple and robust connection to 50mm ball hitch couplings.
Custom couplings
Need something different? We can design custom couplings to suit your application.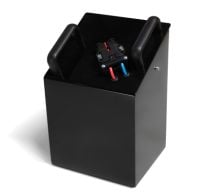 High-capacity batteries
Increased capacity batteries for longer performance.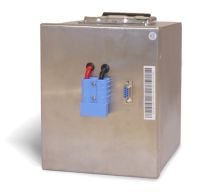 Lithium battery options
Power when you need it, enabling opportunity charging for demanding applications.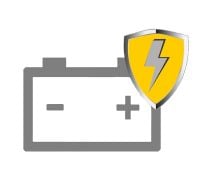 Battery protection system
Maximise your battery service life by preventing battery damage.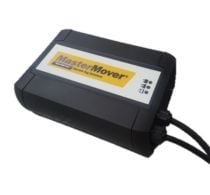 Internal onboard chargers
Our onboard chargers provide flexible charging when you need it.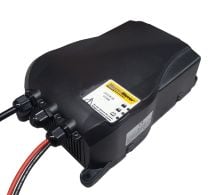 External charger
Guarantees fast, optimised charging for fixed locations.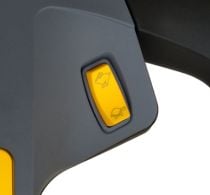 Two speed selector switch
Adjustable speed settings at your fingertips.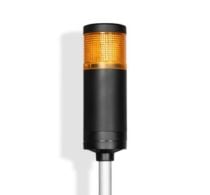 Safety light beeper
Maximise safety when moving loads through congested areas.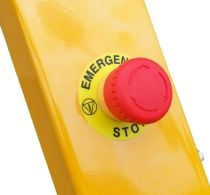 Emergency stop
Allows you to immediately stop the machine.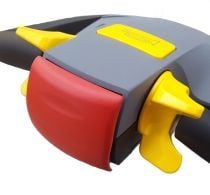 Anti-crush button
Protect operators and maximise operator safety when moving loads.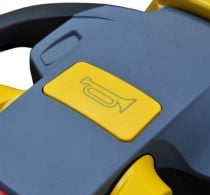 Warning horn
Perfect for congested areas, alert pedestrians when moving loads.
Automatic cut-off
Preventing accidental operation of the machine.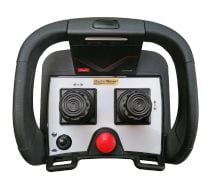 Remote control
Excellent visibility for easy positioning, with simple controls.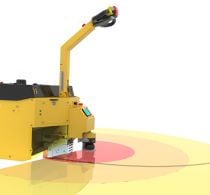 Wireless AutoSteer
Follow predetermined routes, with operator in control of movement.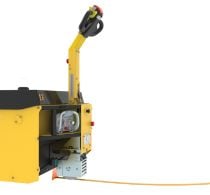 Line follow
Autonomous operation using line follow navigation, for repeated movements.
Use of a MasterMover electric tug has enabled us to use a bit of the mill layout for vastly improved production ability and better, faster customer service – space that was previously set aside for forklift movement.
Benefits of MasterTow Tugs
When you need a reliable and flexible solution to move heavy loads, the MasterTow range of electric tow tugs delivers every time.
Your Questions, Answered – FAQs
What technology options are available on the MasterTow range?

Remote Control: Excellent visibility for easy positioning, with control at the fingertips of the operator.

Wireless AutoSteer: Movement using line follow navigation with speed controlled by the operator via remote control.

Line follow: Autonomous operation using line follow navigation with optional barcode scanning for automatic speed adjustment, best-in-class safety systems reduce risk.

Can you use electric tow tugs outside?

Yes, MasterMover electric tow tugs can be used outside. Built with durability in mind, the MasterTow range delivers consistent traction and performance on uneven surfaces and rough floors. Purpose-built for industrial environments, the MasterTow range can be used inside, outside and on slopes.

Can the MasterTow range push and pull?

Yes, the MasterTow range can push and pull. The design of an electric towing machine means that pulling performance is greater than pushing performance, but with solutions capable of moving up to 20,000kg, our team can advise you on which model is best for your application.

What is the maximum speed of the MasterTow range?

With the Two Speed Selector switch, 'Tortoise' mode enables you to maximise control and operate the machine at a slower speed setting of 1.2kph. In the faster 'Hare' setting, the machine's speed is 3kph. Machines can be set with custom speed settings where required, with a maximum programmable speed of 6kph.

How far can the MasterTow range travel on one charge?

Battery performance varies from model to model and is influenced by load weight, battery capacity, environmental conditions and usage. Individual battery performance data for each model can be found on the Technical Specification Sheets available for download.

How does the MasterTow range connect to loads?

A range of coupling options are available across the range that maximise performance, security and safety. The tow pin coupling offers a plug-and-play solution perfectly suited to connecting to a range of drawbars.

Can the MasterTow range work on slopes?

Yes, the MasterTow range can work safely on slopes. When it comes to electric tugs and tows, it's important to understand that for every degree of slope involved, the maximum load capacity of the machine is reduced, just as pushing a car on the level requires less force than on a slope.

Therefore, if the weight of the load is already close to the maximum capacity of the machine, a more powerful machine may be needed to move the load on a slope. We carry out a full evaluation of your application to ensure any machine is suited to your needs.
Ready to Unlock Safer Operations?
Are you looking to improve safety and efficiency in your operations? Contact us to discover how you could transform your processes to enhance efficiency and maximise workplace safety with an electric tug or electric tow tug.