MasterMover Introduces New Updates to the MasterTug Range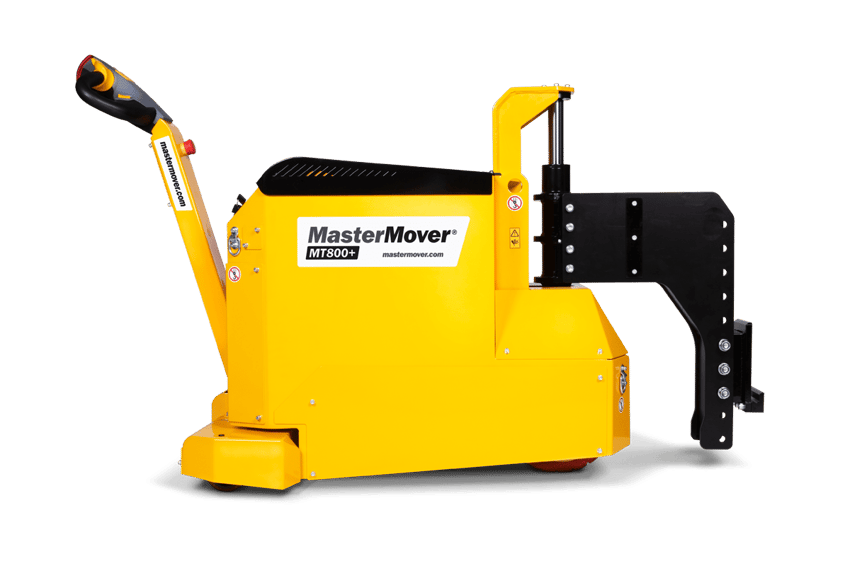 MasterMover, the award-winning manufacturer of electric tug solutions, has announced significant updates to its MasterTug range, used worldwide by some of the leading names in Industrial Manufacturing industries.
The MasterTug range is designed to move heavy or large wheeled loads, with capacities ranging from 2,000kg up to 20,000kg. With the robust machine taking the strain, a single pedestrian operator can effortlessly push, pull and steer loads through 180 degrees.
Electric tugs in the MasterTug range utilise a patented weight transfer system to generate traction to the drive wheel, enabling these machines to be compact yet powerful.
The new updates – which cover the MT800+, MT1000+, MT1200+ and MT1500+ – see a number of enhancements, offering users additional features and a streamlined design.
The updated MasterTug machines now feature a longer hydraulic mast to offer greater control of movement around gradients and variable floor conditions. This also allows for a wider range of coupling heights.
In addition, the battery can be easily removed via a slide-out feature, making removal simple.
"The MasterTug has been a foundation of MasterMover's success around the world, with machines moving loads across the globe in many industries," said Andy Owen, Partner and Director at MasterMover. "The latest updates to the machines remain true to our principals of offering best-in-class electric tug solutions which are simple to operate and designed in a compact way whilst offering the power to handle heavy loads and materials."
"At MasterMover, we are continually investing in existing and new products, which has resulted in us offering the widest breadth of electric tug solutions internationally."
The MasterTug range is one of a number of electric tug solutions on offer from MasterMover, with pedestrian operated, remote control and autonomous (AGV) machines available, capable of moving loads up to 30,000kg with a single machine, or beyond with multiple electric tugs working together through the company's unique MultiLink technology.
About MasterMover
MasterMover is a UK-based and world-leading manufacturer of electric tug solutions, designed to improve operational efficiency and safety when moving wheeled and semi-wheeled loads. The company is renowned for its innovative approach to solutions, with an in-house team to meet the needs of their enviable client roster.
With a focus on innovation, research and development, MasterMover provides the widest range of electric tugs on the market. The company operates globally with customers in manufacturing, aerospace, energy, pharmaceuticals, retail, logistics, waste & facilities management, and healthcare around the world across Europe, North & South America, Asia and Australasia.
MasterMover offers a wide range of machines capable of moving items weighing hundreds of tons; the company's Compact range offers a range of machines to move smaller loads and is widely used across sectors such as retail and logistics, as well as for lighter-load applications across manufacturing. The company's Performance range is designed to manoeuvre greater weights in a safe, cost-friendly and productive manner in areas such as aerospace, healthcare and airports.
MasterMover products are available as pedestrian, remote-controlled and autonomously operated solutions to offer customers total flexibility to select the solution that suits their requirements. They also offer MultiLink technology to combine the power of a range of machines into a single solution.
MasterMover operates globally through direct relationships and a network of sales and service partners. The company has a successful track record in delivering bespoke projects for a range of customers.