Looking East – Challenges & Opportunities in Asia's Biopharma Industry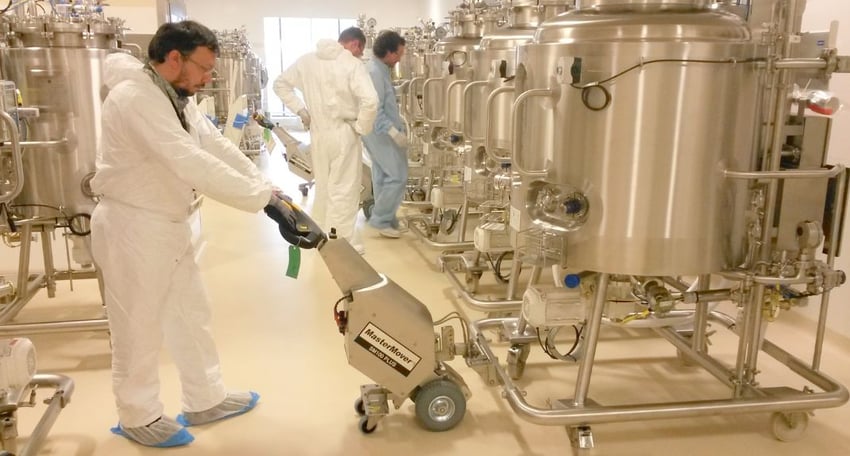 In 2020, the biopharma industry found itself on the lips of almost everyone – globally. The colossal effort behind the vaccine development transformed otherwise unknown manufacturers into household names overnight.
The pressure to develop vaccines triggered substantial investment and innovation globally but particularly in Asia. Whilst much of the region has historically been well-known for low-cost drug manufacturing, over the last decade, the region has shifted its' image to focus on becoming more agile, innovative and capable of much more complex production and development.
The trends within Asia's biopharmaceutical industry come as no surprise to most, especially considering its rapid growth and dynamic nature. Aside from COVID-19, the region boasts an extensive and innovative hub for biopharmaceuticals. While differing markets within Asia present unique opportunities for MasterMover, the following are key areas to watch:
With a focus on globally renowned quality and innovation, Japan is home to a mixture of domestic and foreign joint venture plants. The production value of pharmaceutical drugs was approximately 9.5 trillion Japanese yen in 2019 (Statista, 2021), with Japan also ranked as the 2nd most innovative nation in pharma (PharmaBoardroom, 2021).
With a market value of $93 billion in 2020, China is well-embedded within the strategy of most western multinational organisations (IQVIA, 2020). As it moves to shift away from high-volume, low-value production, China continues to be home to an expanding array of domestic manufacturers and CDMO's.
In terms of volume, India supplies approximately 20% of worldwide pharmaceuticals and is one of the fastest growing markets globally. Generic drugs make up a significant share of India's growing market and the country ranks 3rd globally for production volumes (Statista, 2021).
Despite the geographical size of Singapore, its' strategic location and business environment means the country boasts facilities belonging to 8 of the world's top 10 pharmaceutical companies. With well-established biopharmaceutical clusters and science parks, the region is home to 54 manufacturers (PharmaBoardroom, 2021).
Aside from the four key countries above, other growing markets such as South Korea present significant opportunities. With consistent growth in the pharmaceutical industry since 2016, South Korea has launched an investment plan to become one of the world's five largest COVID vaccine areas by 2025 (Reuters, 2021). Alongside South Korea, regions such as Taiwan and Hong Kong continue to push continuous innovation in both development and manufacturing.
Leading biopharma companies in Asia are set to emerge out of the COVID-19 pandemic as strong, well-equipped competition and strategic partners to the West. Trends and factors around regulations, supply chains, digitalisation and localising production continue to shape the biopharma industry in Asia. While these factors need to be addressed, the COVID-19 pandemic has shown that a need to be agile is paramount. Manufacturers' ability to pivot and adapt will be even more critical in the coming years. Making processes flexible is vital not only for manufacturers, but also for biopharma development sites.
Supporting your move to flexible production...safely
Throughout the biopharmaceutical industry, the growth of single-use systems has accelerated. Simply put, the main aim of single-use systems is to save time and ultimately money. This, coupled with the need for flexible manufacturing has led many of Asia's key players to move towards more mobile and flexible processes. For most, this has meant a shift towards wheeled process equipment which in turn, presents its' own challenges.
Project Snapshots
Here's three project snapshots from across Asia where customers have looked to solve the challenges of flexible production with our cleanroom-ready tugs:
1. Safer transfers
Machine: MT5-400+ SS IP 55
Country: China
Load: Chromatography Columns
Typically, moving away from fixed equipment in pursuit of more flexible operations means installing wheels onto processing equipment. As most Safety Managers will testify, just because a 3,000 kg chromatography column has wheels, it doesn't mean that processing staff should be moving it by hand.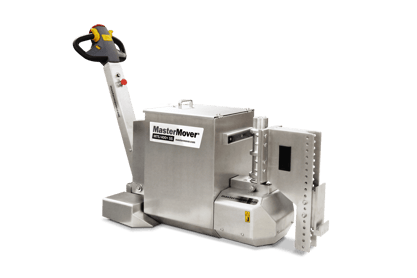 A new pharmaceutical factory in Shanghai wanted a way to move their chromatography columns without compromising safety or flexibility. Our MT5-400+SS offered the perfect solution, allowing staff at the facility to safely move the columns without the risk of injury and with the secondary benefit of efficiency gains.
2. Precision manoeuvrability
Machine: SM100+SS
Country: Japan
Load: Process Tanks
When looking for material handling equipment, balancing the regulatory requirements of production alongside efficiency and staff safety is difficult at the best of times. Add into that tight spaces and large high-value equipment and it becomes incredibly difficult.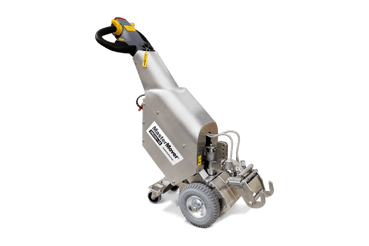 After assessing countless options, a capsule manufacturer in Japan contacted MasterMover after struggling to find a solution compact enough to move large tanks around a tight production area. With a compact footprint of less than 0.5m², the SM100+SS is allowing staff to precisely move the tanks – reducing the risk of costly damage to equipment.
3. Quicker configuration turnarounds
Machine: MT20/960+SS
Country: China
Load: Chromatography Columns
The core aim of flexible facilities for manufacturers is quicker suite changeovers. The need to pivot from one drug production to another is critical.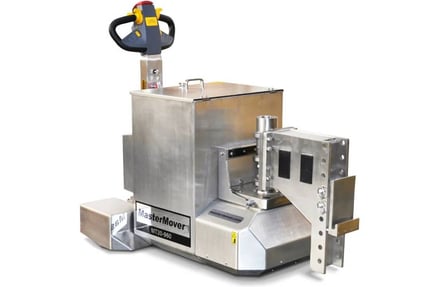 One of China's largest biopharma companies was investigating ways of speeding up the movement of their chromatography columns at their plant in Wuxi. With a quick, easy coupling system the MT20-960+SS unit was the perfect fit for their operations and allowed the customer to quickly change their lab configurations with ease. Through this, they have streamlined their manufacturing process and strengthened their ability to pivot their operations.