Creating Flexible Biopharmaceutical Production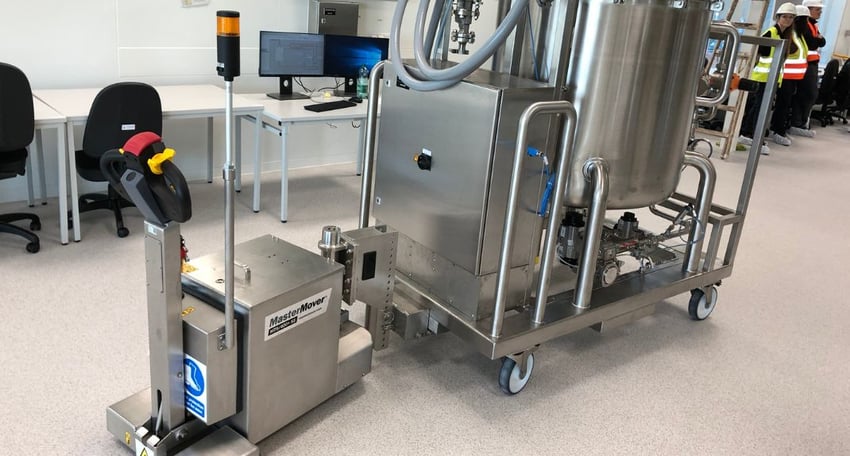 As the advantages of single-use systems become more widely recognised across the biopharmaceutical industry, there is a move from facilities with fixed equipment to laboratories that are agile, modular and able to react quickly to changing demands.
Single-use systems are a great solution for research and development stages, clinical trials and increasingly for commercial manufacturing too. What's more, MasterMover is playing a vital role in the shift to this more flexible way of working - with safe handling solutions for wheeled, moveable loads.
The rise of single-use
So just why are more companies choosing single-use, flexible and modular systems over fixed traditional equipment?
Single-use is designed to be used once and then discarded, with components primarily made of sterilised plastic. On the other hand, with large-scale, fixed infrastructure, cleaning is often time-consuming and costly. With the adoption of single-use, companies can reduce their manufacturing footprint and reduce spend.
Manufacturers who recognise the advantages that single-use systems bring are increasingly turning to modular facilities. Still, this can present something of a problem. Large, heavy equipment mounted on castors moved around by under pressure and highly skilled lab staff mean that any gains made in efficiency can seriously compromise safety.
That's where biopharmaceutical companies looking to achieve maximum flexibility by harnessing the benefits of single use and modular facilities are also thinking carefully about implementing safer manual handling processes. By using the correct load moving equipment, manufacturers can reduce operating costs, the risk of damage to high-value products and also protect the wellbeing of staff.
Making facilities mobile
Although many companies recognise the benefits of a flexible approach, they may often struggle to put it into practice.
MasterMover can help. Whether our customers are in the early design stages of a new facility or working on adapting existing processes, it is never too late to focus on ergonomics, safety and production efficiency. With a wealth of experience working with both established and concept facilities, MasterMover is experienced in providing solutions suited to customers' needs.
With a product range capable of handling loads of up to 15,000 kg and beyond, we've worked with manufacturers of all shapes and sizes to implement ergonomic solutions for handling pharmaceutical equipment. MasterMover electric tugs allow wheeled equipment to be moved easily and efficiently for greater flexibility, improved safety and faster changeover times. Our machines are also available in stainless steel for use in clean room and laboratory environments.
We're helping customers in the biopharmaceutical industry to move:
• Chromatography columns
• Single-use mixers
• CIP skids
• Totes and bioprocess containers
• Agitators
• Tanks, reactors and vessels
• Refrigerated cabinets
• Nitrogen/ CO2 dewars
• Process skids
• Raw materials
If you would like to speak to us about moving solutions for the biopharmaceutical industry, call +44 (0) 1335 301 030, email or complete our contact form.