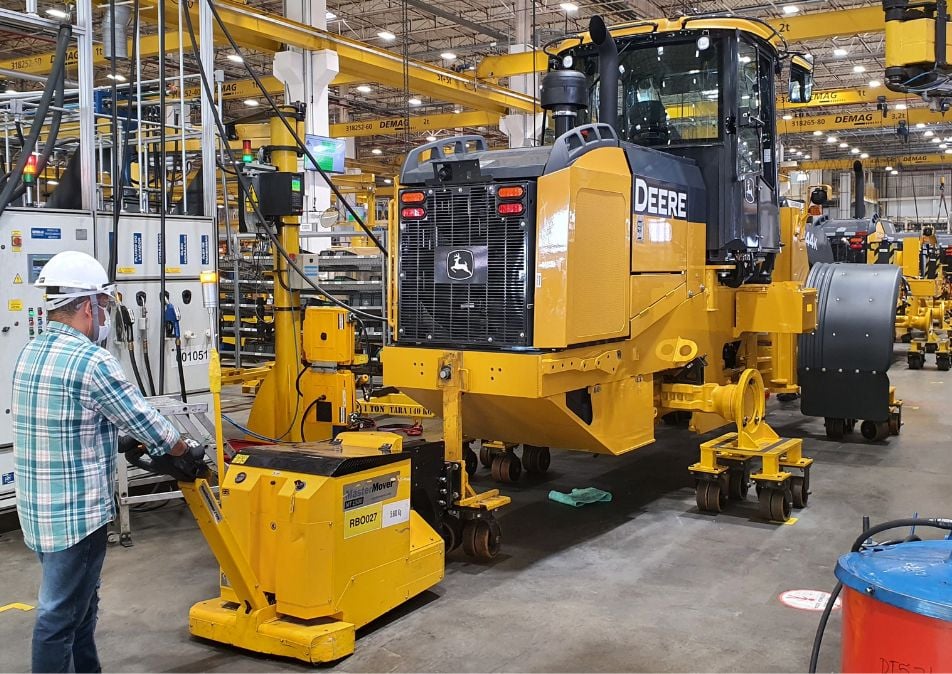 Large equipment and fixed systems stifle production
The heavy, large loads synonymous with the manufacture of agricultural, construction and mining equipment are often moved using a combination of forklift trucks, cranes and winches.

With cumbersome material handling equipment and fixed infrastructure, heavy plant manufacturers struggle with production bottlenecks and the downtime associated with waiting for a licensed operative. Heavy plant machinery manufacturers are increasingly looking for more flexible solutions that can help production to keep moving whilst reducing reliance on forklift trucks on the shop floor.
Greater flexibility to optimise production processes
With a single operator able to safely move loads of 70,000kg and beyond, electric tugs help heavy plant manufacturers reduce their reliance on diesel forklift trucks, heavy lifting equipment and fixed systems. With no operator license required, you can cut downtime and streamline the movement of heavy sub-assemblies to reduce TAKT time.
The benefits of electric tugs in heavy plant assembly
You need material handling solutions that drive production efficiency. Electric tugs offer a flexible solution enabling the efficient, safe movement of loads like sub-assemblies, tracks and booms throughout production facilities.
Create leaner processes and cut downtime

Streamlining the movement of heavy loads, electric tugs help you create leaner processes and reduce downtime.

The power and flexibility you need

Electric tow tugs deliver the heavy-duty movement of loads, and the flexibility manufacturers need to keep production running.

Compact machines to deliver precision

With a unique compact design, electric tugs deliver the precise movement of the biggest loads, even in congested production areas.
Our range of heavy plant assembly electric tugs
Trusted by industry heavyweights
Global agricultural, construction and mining equipment manufacturing facilities trust MasterMover's powerful, compact electric tugs to make the movement of wheeled loads safer and more efficient…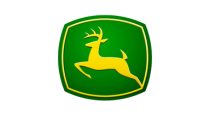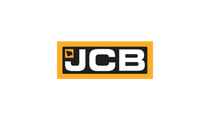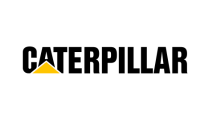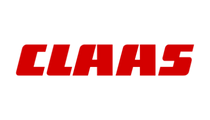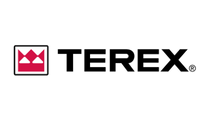 The engineering innovation of the tugs, which use traction to distribute weight to the machine, is ingenious and means that a single pedestrian operator can move a stillage.
Your Questions, Answered - FAQs
What are electric tugs used to move in the heavy plant machinery manufacturing industry? 

Across heavy plant manufacturing, electric tow tugs are used to move a wide variety of equipment and components such as:

Sub-assemblies
Booms
Chassis
Sheet metal
Engines

What types of control options are available? 

Electric tugs are available with multiple control options designed to maximise safety and efficiency. 

Pedestrian operated electric tugs allow a single operator to safely manoeuvre even the heaviest loads with confidence, removing manual handling and reliance on forklift trucks.  
Remote control operation is available to deliver maximum visibility by allowing operators to take up the ideal vantage point when moving loads, facilitating the seamless movement of loads in congested areas. 
Automated AGV electric tugs remove the need for an operator, automating the movement of heavy loads to maximise efficiency and resource utilisation.  

Is an operator license or training required?  

No, unlike lifting equipment such as forklift trucks and cranes, an electric tug does not require a license to operate. A license-free operation reduces downtime and maximises operational efficiency, reducing wasted time waiting for a licensed driver.   

Minimal training is required to safely operate an electric tug and we offer training packages to suit every requirement.     

How are electric tugs powered?

Electric tugs are battery powered, with interchangeable batteries or lithium options available, electric tugs can deliver 24/7 operation to keep your processes moving.

Offering zero emissions from the point of use, electric tugs are ideally suited for indoor use, replacing internal combustion engine (ICE) powered equipment such as forklifts or tow tractors.  
We're here to help
If you're looking to improve safety, remove the risk of injury and unlock greater operational efficiency, we're here to help. Speak to our team to discuss your application.