Sodexo Improves Safety With Introduction Of Moving And Handling Equipment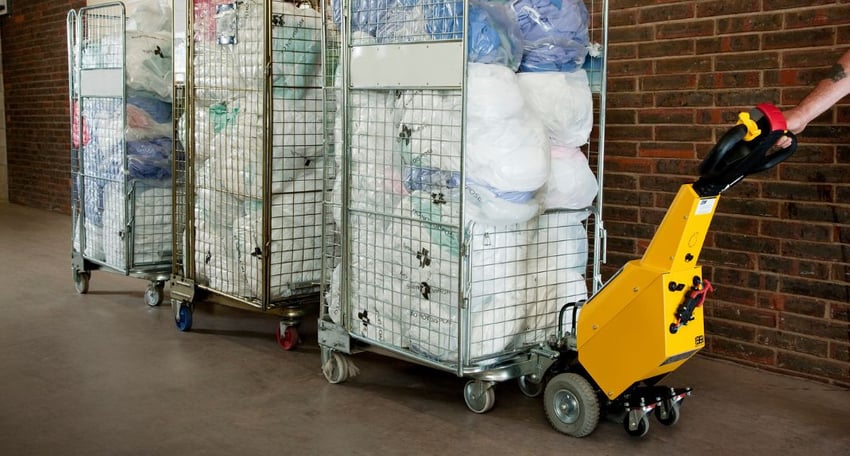 By investing in a range of MasterMover electric-operated pedestrian tugs, facilities management company Sodexo has now improved handling efficiencies across two NHS sites.
"Since investing in electric-operated tugs from MasterMover, the environment that we work in has become safer and tidier," says Mark Devereaux, Deputy Site Director at University Hospital of South Manchester (UHSM), Wythenshawe Hospital. He continues: "The handling efficiencies of our porters, who use the tugs on a daily basis, have improved."
UHSM is a major acute teaching hospital Trust that provides services for adults and children at Wythenshawe Hospital and Withington Community Hospital. UHSM is recognised as a centre of clinical excellence and provides district general hospital services and specialist tertiary services to the local community.
Mark Devereaux is employed by Sodexo, an organisation that provides integrated facilities management services to the NHS and other clients in the healthcare sector. Sodexo specialises in the management of non-clinical services such as cleaning, laundry, waste management, switchboard, car parking, interior and exterior building services. At Wythenshawe Hospital, Sodexo employs more than 650 staff.
"Sodexo's objective at all times is to leave our clients to concentrate on the care of patients and residents, while we focus on providing a safe, clean and comfortable environment for patients, residents and healthcare staff," states Devereaux.
Prior to the delivery of a package of electric-operated pedestrian tugs from MasterMover in March 2009, the hospital portering staff at Wythenshawe used a variety of sit-on vehicles, slightly larger than a golf cart, in order to transport clinical waste, general waste, gas bottles and laundry around the hospital. Devereaux says these vehicles were too bulky for its environment and hard to control.
Since investing in electric-operated tugs from MasterMover, the environment that we work in has become safer and tidier.

Mark Devereaux

Deputy Site Director, UHSM
Devereaux searched on the Internet for suitable suppliers, eventually choosing MasterMover as his preferred supplier. "Our portering manager had trialled some MasterMover machines before and the feedback I received from him was very encouraging. The ease with which MasterMover tugs can be manoeuvred is incredible and the technical support and training provided by MasterMover was first class," he enthuses.
More than 20 porters now use a variety of electric-operated tugs from MasterMover. The turnkey solution provided to the hospital includes eight-off MT3-240 electric-operated tugs, which are now used to move clinical and general waste, as well as dirty linen, around the hospital. The MasterTug can pull, push and steer wheeled loads from 50kg up to 25,000kg.
The hospital also purchased two SM60 tugs, which are specially designed to safely manouvre laundry roll cages and trolleys. A special gas bottle mover was also provided by MasterMover which helps porters safely deliver medical gas cylinders to hospital wards and storage areas.
"The SM60s have certainly improved our handling efficiencies around the site. We can limit the speed of the tug which again improves the safety of the environment," explains Devereaux. "In fact, we like the SM60 so much, we are currently looking at other areas of the Trust that may benefit from using it."
"The gas bottle mover has also saved us time. One porter can now move multiple gas bottles around the hospital safely and quickly. Devereaux concludes by saying that MasterMover's machines are both "fit-for-purpose" and "do exactly what they're supposed to do."
It's not just UHSM that is benefiting from using MasterMover tugs. Sodexo also manages a number of non-clinical services at University Hospital North Staffordshire (UHNS), and Stoke on Trent PCT, both in the city of Stoke on Trent. Both Trusts are currently undergoing major investment and upgrading by means of a PFI development which is supporting the construction of two new hospitals, one on the City General Site for the University Hospital of North Staffordshire and also on the Haywood Hospital site for Stoke on Trent Primary Care Trust (PCT).
Sodexo undertakes risk assessments on all its contracts in order to identify any issues particular to each site. Offering his experience in healthcare handling, Anthony Brown, MasterMover's Sodexo Account Manager, was invited to participate in the assessment, along with the Sodexo management team.
In the case of the City General, it was identified that the hospital is spread over a large area and has a steep gradient from the top to the bottom of the site, which could cause physical strain to porters, who regularly have to manoeuvre trolleys up and downhill. In addition, it was recognised that due to the size of the site that utilising MasterMover machines would improve efficiency, with a number of trolleys being able to be moved simultaneously.
As a result of the assessment, Sodexo, which employs 66 porters, has purchased four MT3-240 electric-operated tugs for moving general and clinical waste bins and waste trolleys; ten SM60 units for moving dirty laundry and stores roll cages (three at a time); one gas bottle mover, which enables one porter to move multiple gas bottles of varying sizes around the hospital, quickly and safely with minimal effort. The porter can load up the tug and deliver all the gas bottles in one round rather than several separate rounds during the day. MasterMover also provided two ride-on tugs for moving medical records, patient specimens and post around the campus; and five bespoke trolleys, including three low loaders for transporting food containers and two large lockable cabinets for medical records, post and x-rays.
Sodexo was impressed with the training provided by MasterMover's Anthony Brown. "When the new tugs arrived on site, Anthony trained key members of the portering staff, who were then responsible for training all the other porters. Anthony came back several times to train more staff and we felt he really took ownership of this, assessing what we needed and providing excellent support to us and the staff are delighted with the movement aids," said Anne Alexander.