Case Study: Pizza Manufacturer Improves Labour Productivity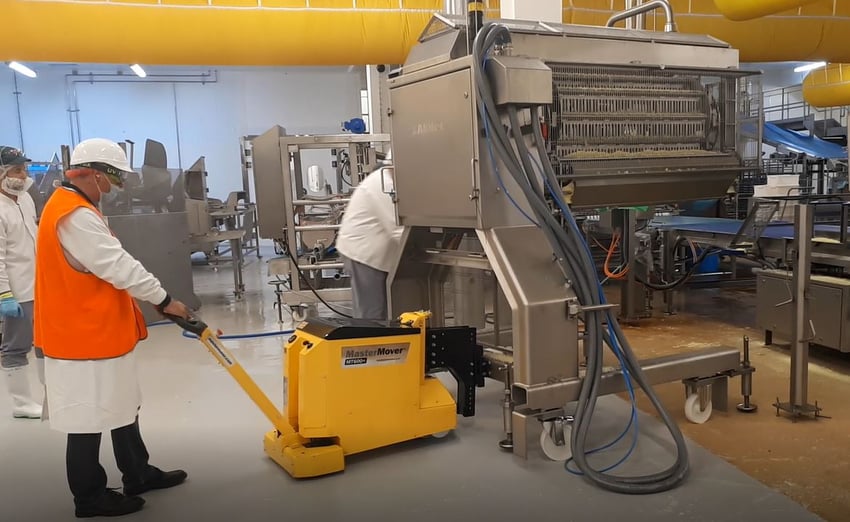 Food production lines need to comply with strict regulations to ensure the highest standards in quality are continuously observed. At the same time, food manufacturers are under pressure to maximise production efficiency and labour productivity.
Given the ongoing staff shortages, many food manufacturing facilities are running approximately 10-15% below full staff capacity, leading many to focus on increasing both labour productivity and wider operational efficiency.
These challenges combined with the pressure on food manufacturers to reduce manual handling within production processes led Buitoni, a leading food manufacturer, to choose MasterMover electric tugs to improve safety and productivity through effective material handling.
In this case study, discover how Buitoni:
Optimised labour productivity
Streamlined the movement of equipment from 5 people to 1 person
Improved workplace safety
Supercharged operational efficiency
Material handling in the food industry – Buitoni's application
Like many food manufacturers, Buitoni recognised the need to review internal processes and identify areas of improvement in food material handling to maximise efficiency, staff productivity and safety.
Buitoni identified an opportunity to improve its production processes of frozen pizzas – a leading product line sold extensively across Europe.
Within the manufacturing process of frozen pizzas, Buitoni's production operatives needed to position and reconfigure production lanes depending on the product being produced.
This process involved multiple members of production staff taking time away from their tasks to manually move and set up different pieces of heavy-wheeled equipment.
As part of this process, 5 members of production staff would manually push, pull and position pizza topping equipment, weighing up to 4,500kg.
It was physically exerting work, with staff experiencing fatigue, low productivity and the risk of injury. Furthermore, the manual movement of the equipment was inefficient, resulting in production coming to a standstill while the equipment was moved into place.
In its pursuit to improve operational efficiency and increase labour productivity, Buitoni discovered MasterMover electric tugs, machines designed to make the movement of heavy-wheeled loads safer and more efficient.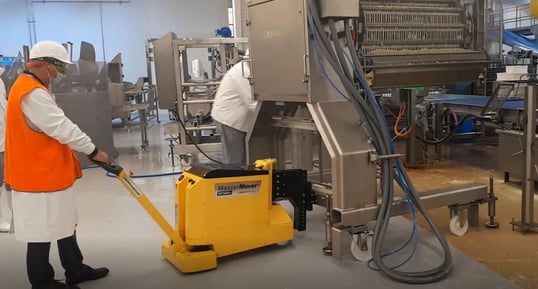 Streamlined from 5 to 1: A journey towards maximum labour productivity
Working with Buitoni, MasterMover specified its MT600+, a powerful electric tug that delivers the safe movement of loads weighing up to 6,000kg.
Now, with the MT600+, a single operator can easily move pizza topping equipment with ease and in a fraction of the time.
By replacing the manual movement of the equipment with the MT600+, Buitoni has increased labour productivity by freeing up production staff to work on more valuable tasks. With the movement now only requiring one operator, production can continue uninterrupted, allowing Buitoni to benefit from improved operational efficiency and a safer working environment.
Since the introduction of the MT600+, Buitoni has benefited from:
Optimised labour productivity
Streamlined the movement of equipment from 5 people to 1 person
Increased operational efficiency
Prevented bottlenecks in the production process from material handling
Improved safety through removing manual handling processes
Increased flexibility with equipment now able to easily and quickly be reconfigured
Maximise your production flow and labour productivity
Global trends in food production are leaving food manufacturers grappling with labour shortages and rising production costs. These factors continue to prompt manufacturers to invest in efficient, ergonomic material handling in food processing.
Manufacturers including Buitoni continue to supercharge operational efficiency, production flow, labour productivity and significantly reduce the risk of injuries through the use of electric tugs and material handling equipment in the food industry.