MasterMover Product Innovation – ATEX Material Handling Solutions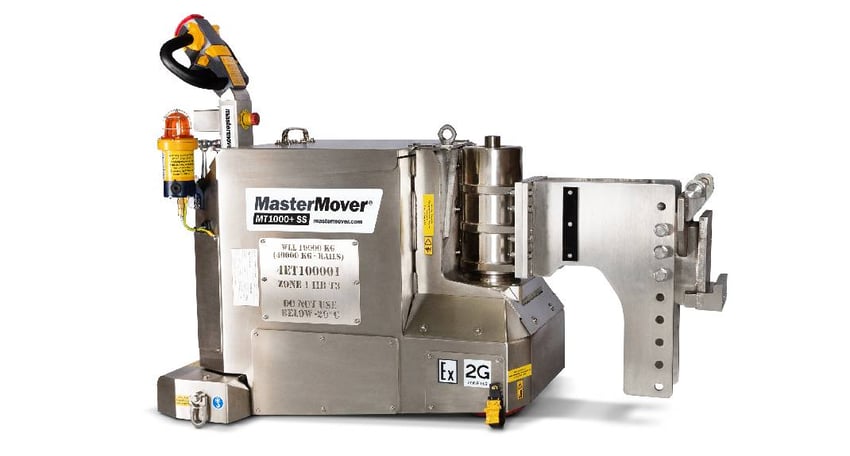 Moving heavy and awkward loads safely and efficiently can be a challenge for many different industries, particularly when there is the additional factor of potential explosion. Here's how MasterMover's machines can still be used in environments where there are flammable vapours, dust and fine particles.
For oil and gas manufacturers, as well as those in the chemical, pharmaceutical and food and beverage sectors, managing the risk of ignition needs to be weighed up
against the benefits of material handling solutions.
However, thanks to MasterMover's engineered solutions and innovative approach, it is possible to protect staff, sites and equipment even when dealing with flammable vapours, dust and fine particles – and still harness the load moving power of our tugs.
All of our machines can be adapted to meet the requirements of the ATEX directive, for use in Zones 1 and 2 and Zones 21 and 22.
MasterMover's range offers moving capabilities of 50 kg up to 360,000 kg, allowing a single pedestrian operator to push, pull and steer heavy loads even on less-than-perfect terrain and tricky surfaces. Manufacturers trust our material handling expertise to help reduce downtime, improve efficiency and promote a 'safety first' culture.
Our compact but powerful SmartMover can transport loads of up to 1,200 kg – so is ideal for moving trolleys and mixing vessels in laboratories or other potentially hazardous areas.
Meanwhile, our MasterTug range can move up to 20,000 kg and offers a wide variety of applications including improving efficiency in offshore and onshore environments.
Our most powerful electric tug to date, the PS3000+ is capable of handling 30,000 kg and, when used in MultiLink mode, can move up to 360,000 kg.
Safety enhancing features on our adapted machines include gas detection, active temperature monitoring and controlled shut-down for peace-of-mind if the recognised limit is exceeded.
Your Questions, Answered – FAQs
What industries do you provide ATEX electric tugs into?

Our electric tugs are used in potentially explosive environments across a diverse range of industries. They're relied on in offshore oil and gas processing, biopharmaceutical cleanrooms, chemical manufacturing and defence industries to deliver the controlled movement of loads in highly controlled environments.

What process do you follow to convert electric tugs to ATEX standards?

All of our electric tugs are designed and built to the highest standards in the UK.

For applications requiring an ATEX rated electric tug, your electric tug will be manufactured at our facility.

From there, our best-in-class conversion partners will convert the machine to the required environmental specification.

Can electric tugs be used offshore?

Yes, our electric tugs can be used offshore. All of our mild steel and stainless steel solutions can be converted to ATEX standards for use on oilfields.

Custom solutions with higher ingress protection (IP) ratings and marine-grade paint and coatings are available.