Safe Control For Multinational Cereal Factory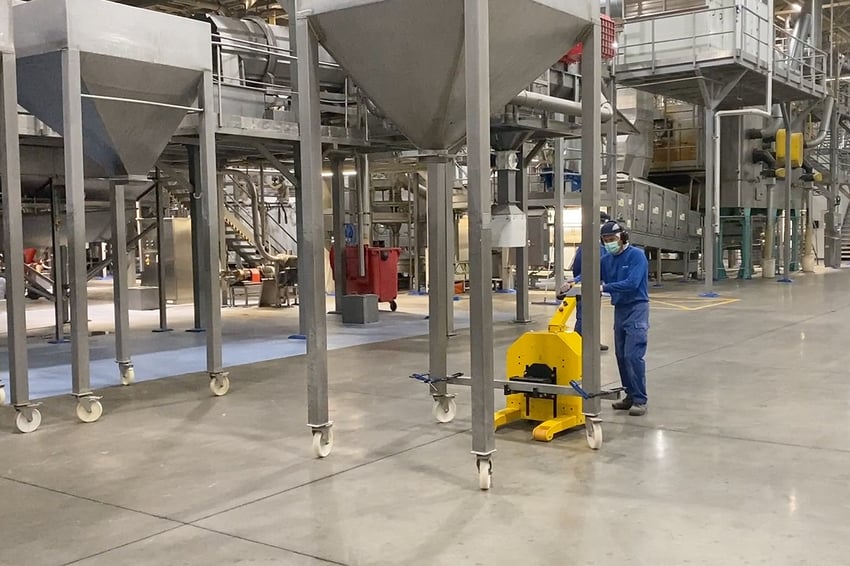 A multinational cereal manufacturer has reduced the risk of injuries in the movement of ingredient hoppers at their production plant in Spain, through the use of MasterMover electric tugs.
With high volume food production, any material handling equipment in the food industry needs to support safety, without compromising production efficiency and speed. In this case study, we explore how this food producer achieved just that, alongside benefiting from complete control in the movement of heavy hoppers.
Moving Giant Ingredient Hoppers By Hand
Within the food and beverage industry, hoppers are often used to store and transfer raw materials or ingredients, either throughout the production process or within packing. Typically made from stainless steel and designed to hold a high volume of product, they can be cumbersome and heavy to move around within a factory.
At this cereal production site, wheeled hoppers holding raw materials weigh as much as 800kg and tower at 4 metres high. When ingredients needed to be transferred throughout the production process, multiple members of production staff were required to manually push, pull and position the hoppers.
This was a repetitive movement that led to staff fatigue and the risk of injuries such as musculoskeletal disorders. With the manual movement taking multiple members of staff away from production activities, the plant's management wanted to find a solution that would deliver the controlled movement of hoppers without the physical strain on production staff.
Challenges in Finding Material Handling Equipment in the Food Industry
Alongside key deliverables of safety and efficiency, the manufacturer needed a solution that would be compatible with the high volume of hoppers on the site and one that could be installed without making modifications to their hoppers.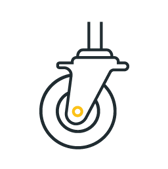 The hoppers, like a lot of food processing equipment, were fitted with all-swivelling castors. This configuration is attractive within food production as it is designed to enable equipment to be pivoted on the spot and deliver maximum manoeuvrability. However, loads with all-swivelling castors can be difficult to control in straight line movements, or when using many types of material handling equipment.
Safe and Efficient Material Handling in Food Processing
This customer's search for a material handling solution that was safe, efficient, and easy-to-use led them to discover MasterMover electric tugs – license-free machines specifically designed to move heavy-wheeled loads in the food industry.
With the application requiring a solution that would deliver complete control of large hoppers, MasterMover engineers specified the MasterHandler MH400+, a machine specifically designed to deliver the controlled movement of loads fitted with all-swivelling castors.
The MH400+ incorporates support legs that provide a controlled fixed point, allowing operators to easily position and control the hoppers during in movement – without compromising on manoeuvrability.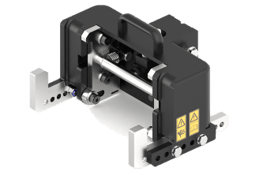 Recognising the need for compatibility with the high quantity of hoppers, the MH400+ featured a universal hydraulic channel coupling – allowing operators to easily and securely clamp to the frame of any hopper.
Turnkey MasterHandler Transforms Safety and Efficiency
For this food manufacturer, MasterMover electric tugs have delivered tangible safety improvements through the reduction of fatigue and the risk of incidents. Alongside safety gains, the company continues to benefit from improved efficiency, with the movement of hoppers now only requiring one operator.
By introducing the MH400+ into their processes, this leading food manufacturer has been able to benefit from:
Effortless movement of 800kg hoppers
Increased operational efficiency
Complete control of hoppers
Reduced risk of collisions through improved visibility