AGVs – The future of warehouse efficiency
53% of third-party logistics providers (3PL) stated that automating warehouse processes is their most significant opportunity in 2023 (Extensiv, 2022).
The market value for AGVs within e-commerce and logistics is forecasted to reach $560.9 million by 2023 (AGV Network, 2021), illustrating the acceleration of logistics automation.
The benefits of automation include:
Improved safety
Unlock greater efficiency
Maximise space on the warehouse floor
Fully automated load moving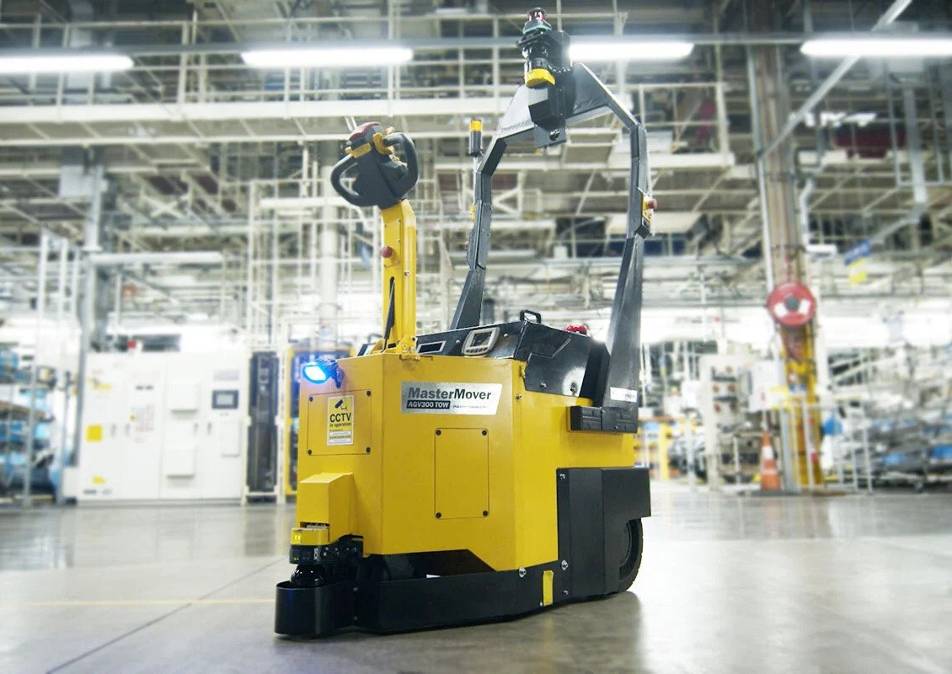 What are automated guided vehicles?
An automated guided vehicle (AGV) is a material handling system that travels autonomously without an operator.
With AGVs delivering significant efficiency gains, logistics companies increasingly use the technology to mobilise their operations.
Moving to an automated logistics system – What are the benefits of warehouse AGVs?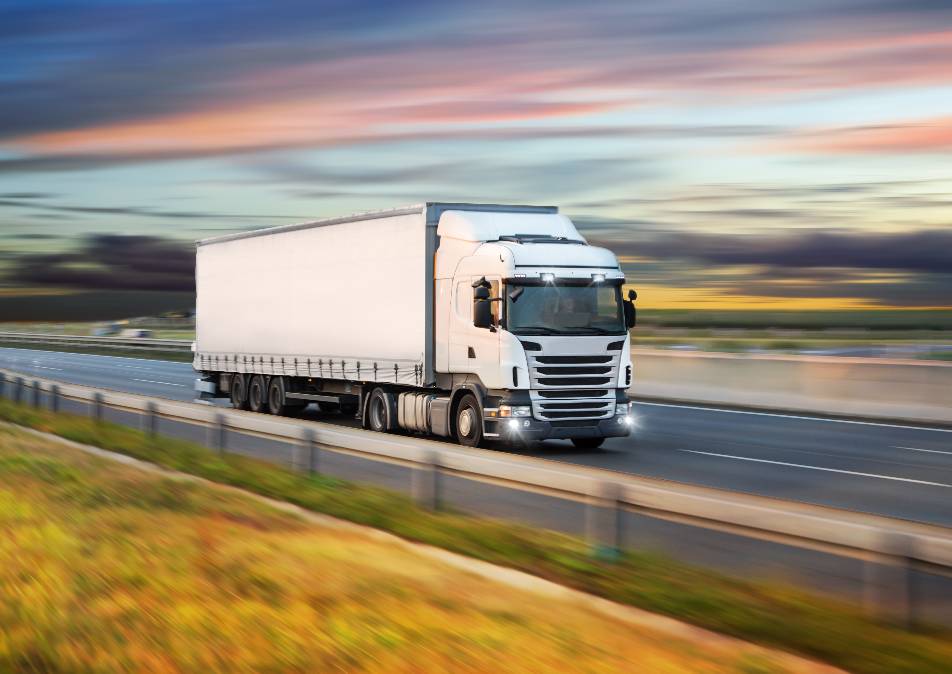 Project Snapshot: Leading 3PL gains competitive edge with AGV systems
A third-party logistics provider (3PL) has reduced its forklift fleet, significantly reducing traffic in populated areas and driven efficiency benefits through a MasterMover warehouse AGV solution.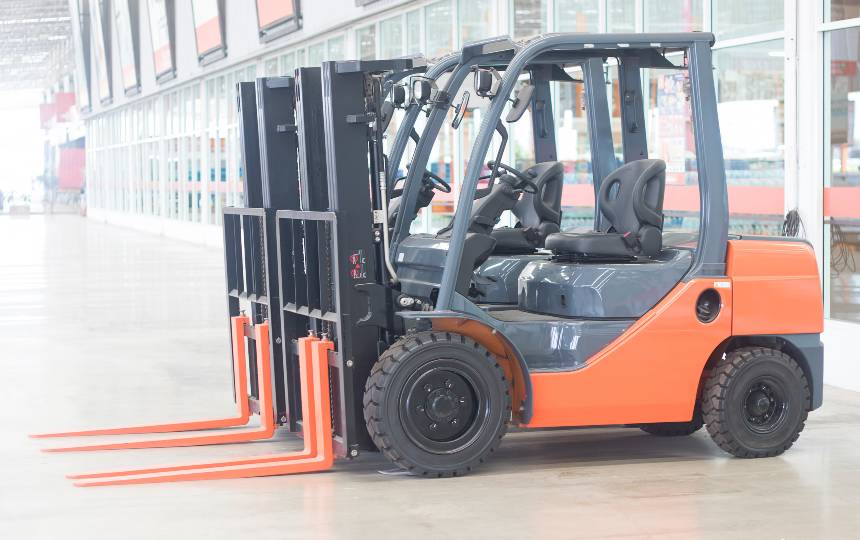 The move towards automation in logistics
This 3PL uses cages to transport parts from the depot to stores. When these cages are returned to the depot, they are located on the opposite side of the site from where they are needed.
Previously, forklift trucks were used to move roll cages, stock and containers. However, the forklifts could only move a small number at a time and were travelling in busy areas.
These factors meant a lack of efficiency, increased costs and a higher risk of incidents involving people, equipment and stock.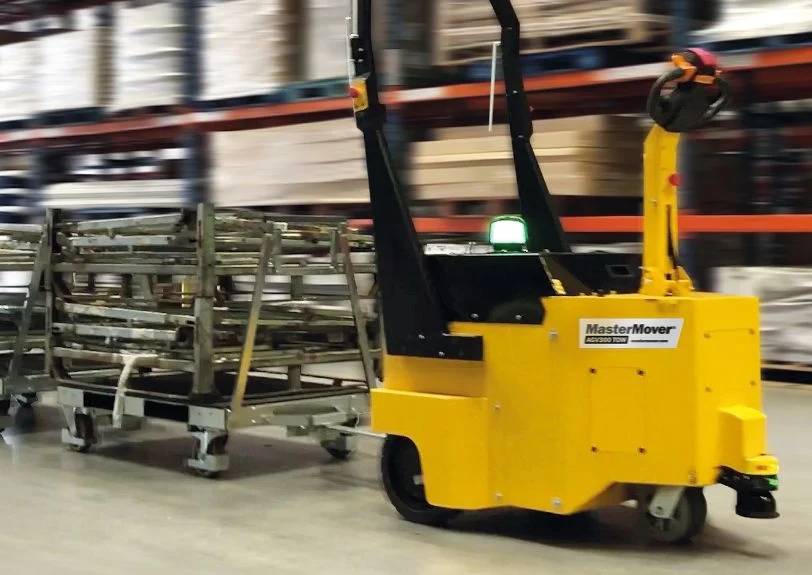 The solution – MasterMover AGV
With a MasterMover AGV solution, the movement of stock is automated, with the AGV moving five times the number of roll cages or containers in one go. Forklifts are now only used outside in safe areas, and fewer operators are needed to transfer stock across the site.
The benefits of the logistics automation system for this 3PL included:
Improved safety
Unlocked greater efficiency
Maximised space on the warehouse floor
Fully automated moving loads
Removal of human operated forklift process
Automation of repetitive tasks
Ready to learn more?
Download your Guide to Automated Guided Vehicles (AGV)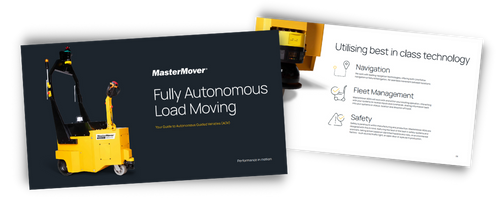 Answering your AGV questions
What is natural navigation?

Natural navigation requires no external infrastructure. Using sensors, the AGV maps its surrounding, during training, resulting in no need to reconstruct warehouse or production environments.

What happens if the AGV encounters an obstacle?

Our AGV integrates sensors and various components that receive, process and analyse data in real time and act accordingly. When an autonomous guided vehicle encounters an obstacle on its route, such as a pallet or person, it will stop if it detects that it could harm the operators.

How will automation affect my employees?

AGV perfectly complements your existing workforce. AGVs do the heavy manual work, Removing or reducing the need for your staff to move materials, allowing your people to spend more time doing greater-value tasks.

How does an AGV know where to go?

Our AGV navigation technologies include:

Line follow: A painted or magnetic line on the floor.

The AGV follows only the painted or magnetic line (including markers to tell it where to stop or change direction).

Natural: A navigation that requires no external infrastructure.

The AGV maps its surroundings using sensors during training runs, and stores the data onboard.

Our AGVs, unlike others, are built to operate indoors, outdoors, on slopes, uneven terrain and even in the rain, ensuring production and manufacturing processes can reduce downtime with autonomous load moving between buildings.

How fast can an AGV travel?

MasterMover AGVs travel up to 2.5m per second, even with heavier loads. AGVs are capable of adapting to the surrounding environment, slowing down at certain points i.e. through high pedestrian areas and then speeding up when necessary.
Ready to talk? Request a consultation