View Logistics Expand Carpet Handling Equipment Fleet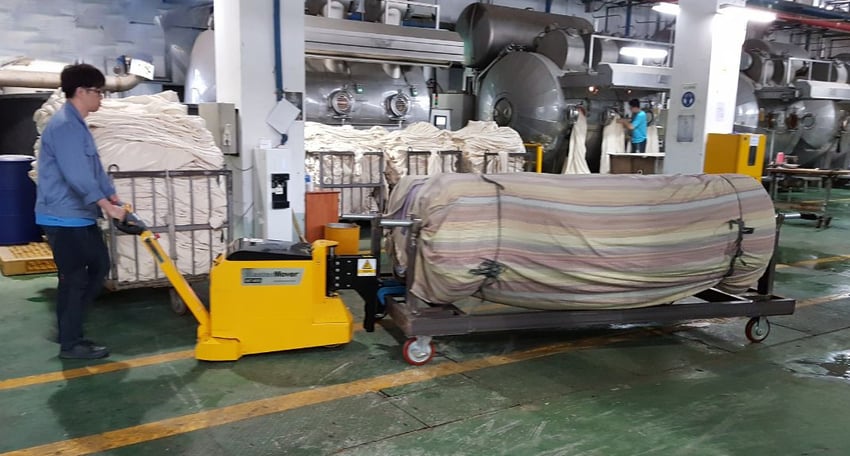 MasterMover's ability to provide custom engineering solutions for materials handling applications has led to View Logistics purchasing more of the company's pedestrian electric tugs to move heavy stillages.
View Logistics is the distribution arm of carpet manufacturers Whitestone Weavers and Hugh Mackay, the UK's leading supplier in the hospitality and leisure sectors. Completed carpet reels are stored in View's Hartlepool warehouse, where they are moved on bespoke stillages.
When full, these stillages weigh up to 4,000kg and are several metres long. View Logistics therefore identified a preference to switch to a controlled method of manual handling instead of using forklifts, in order to improve safety and efficiency within the warehouse.
After researching the market, View Logistics selected MasterMover on the basis that it was the only company able to supply the correct attachments to move the wheeled stillages and eliminate the need for physical effort when moving.
Given MasterMover's proven track record it was an easy decision for us to approach them once again. MasterMover has been the only company who was able to provide the correct solution in a cost effective way, and we are delighted with the MasterMover machines.

Steve Byrne, Managing Director

View Logistics
View Logistics was provided with a MasterTug, a pedestrian-operated electric tug that utilises tractive force to transfer the weight of the load to reduce friction and optimise traction. This enables a single pedestrian operator to move the stillages in a safe and controlled manner.
MasterMover worked closely with View Logistics to find the optimum means of coupling the MasterTug to the stillages and created a customised connection point.
The first MasterTug was purchased to move carpet stillages from View Logistics' sorting area to the dispatch point. View Logistics has ordered another machine after continued growth led to an increase in warehouse volumes.