Custom Manipulator For TechnipFMC Boosts Efficiency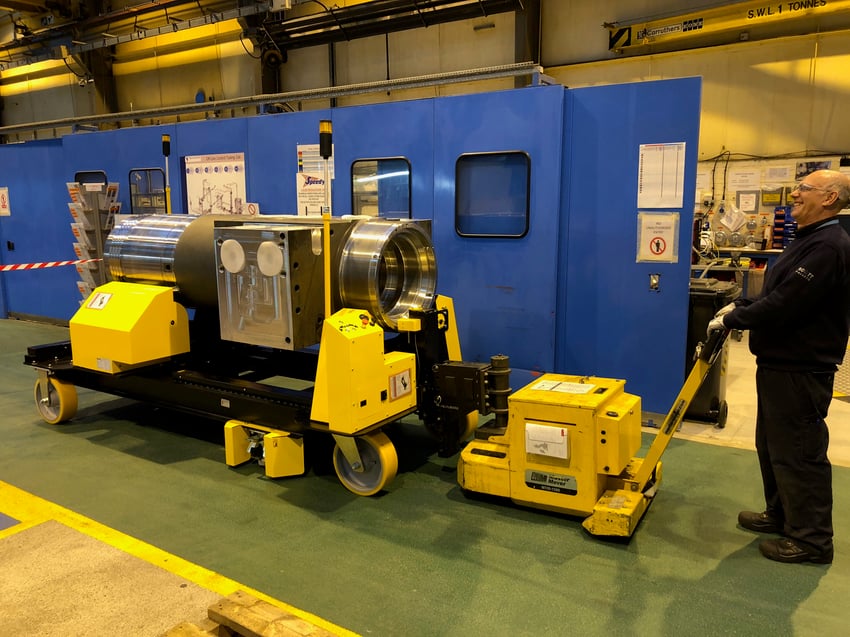 For oil and gas equipment manufacturers, finding effective solutions for handling heavy equipment and tolling can be a difficult task. Heavy loads, tight manufacturing areas, and the need for pinpoint positioning lead many manufacturers to rely on MasterMover's electric tugs.
Complex Manufacturing Processes Need Flexible Handling
One such customer is TechnipFMC, a leading manufacturer of integrated subsea systems known as Christmas Trees. During the manufacturing process of a Christmas Tree, the central block needs to be moved to different bays along the production line. Each bay applies a different manufacturing process prior to the final assembly. To facilitate these processes, the block must be manipulated or rotated accordingly.
Traditionally, a static manipulator that cannot be transported around the facility was used for this purpose. However, recognising the benefits of mobility, TechnipFMC contacted MasterMover with aspirations of a mobile manipulator trolley.
Developing A Custom Solution
Collaborating closely with engineers and safety staff at TechnipFMC, MasterMover engineers developed a custom machine that can support and manipulate each block while also being easily transported by an electric tug.
Once the block is lifted onto the manipulator by a crane, the machine will transport it along the production line, rotating it at each bay to allow for various manufacturing processes without requiring additional crane intervention.
The new MasterMover machine is designed to adapt to different block sizes, with electronically movable connectors that ensure a secure fit. To prioritise safety, MasterMover has collaborated closely with TechnipFMC's HSE department to integrate numerous safety features that provide maximum protection to the operator.
Delivering The Project
Overseeing the installation was James Jones, MasterMover's Special Projects Director who said:
"We have worked with TechnipFMC through every stage of the process. We started with a simple CAD drawing which was then worked through to a concept model drawing and overlaid with the final solution. There was a 16-week lead time from initial discussion to completion and crucially, the project was completed on time and on budget."
This project showcases the unique skills and capabilities of MasterMover's Special Projects Division. They are equipped to handle any projects that require customised solutions beyond their standard range of products.