Volkswagen EV Plant Supercharges Workplace Safety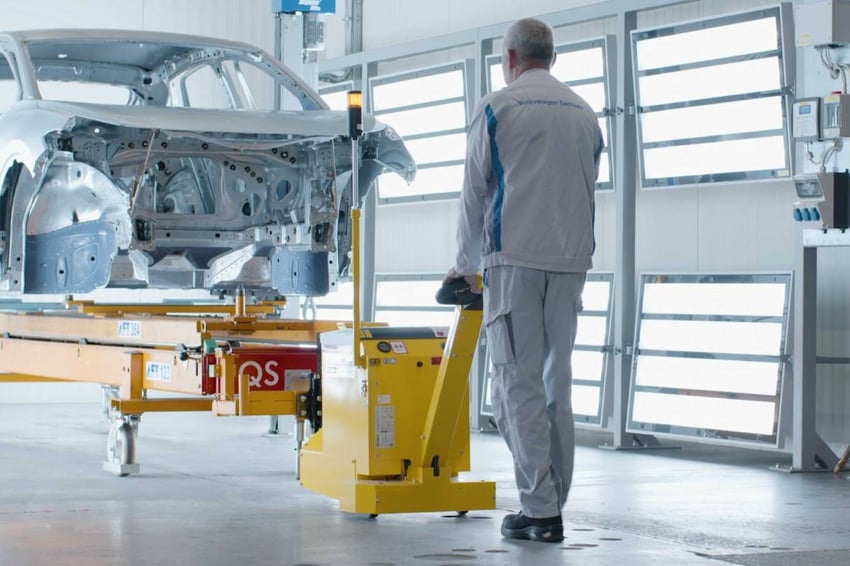 As one of the largest automotive OEMs in the world, Volkswagen is committed to creating a safe working environment for its employees. That's why the automotive manufacturer relies on MasterMover electric tugs to reduce manual handling, maximise flexibility and improve productivity in their production processes.
With a long-standing relationship with Volkswagen, MasterMover electric tugs are depended on to support various applications within the production process. The strength of this collaboration can be seen at their Zwickau Plant in Germany – Volkswagen's flagship electric vehicle (EV) manufacturing plant, and the largest of its kind in Europe. Pioneering the production of electric vehicles, the site is a multi-brand production facility, manufacturing vehicles such as the ID.4 and even bodies for Bentley and Lamborghini.
The flexibility and safety of MasterMover electric tugs continue to drive Volkswagen's adoption of the machines in various aspects of their production processes.
In this case study, we explore how Volkswagen reduced manual handling and improved safety in the movement of body-in-whites at Europe's largest electric vehicle plant.
The movement of body-in-whites to inspection booths
Within automotive manufacturing, the "body-in-white" stage is a crucial part of the process.
During this stage, body panels are welded and assembled to form the structure of a vehicle. Once the body-in-white has been assembled, it undergoes a series of tests to ensure correct alignment and that there are no structural defects. From there, the next step is painting, and finally it moves on to final assembly.
It's within the movement of bodies throughout the quality and inspection test process that Volkswagen identified an opportunity to improve ergonomics and safety.
Weighing up to 1,500kg, the body-in-whites were moved manually from the production line to inspection booths – a task that required the physical effort of two production operatives.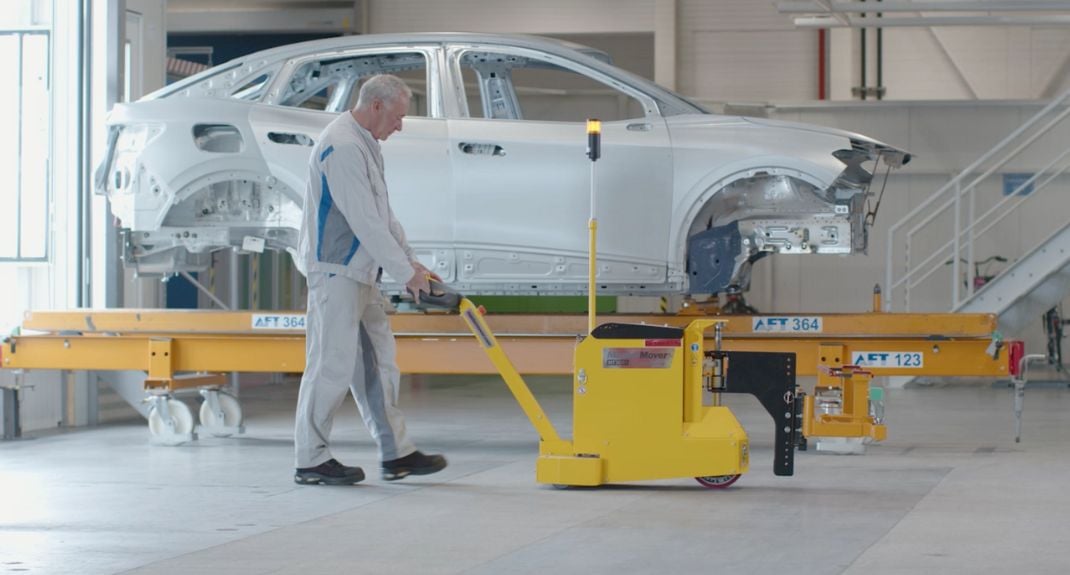 Looking to remove manual handling and reduce the risk of injury in moving the loads, Volkswagen investigated the market for electric tug solutions – machines specifically designed to improve the safety and control of heavy-wheeled loads.
The trolley systems carrying the body-in-whites are equipped with a unique coupling system, designed to integrate with their automated production line.
With this in mind, Volkswagen needed a solution that could connect without modifications to their trolley system – ensuring they maintained compatibility with the automated production line system.
The Solution
Body-in-white movements made safer
With a need for engineering expertise and experience, Volkswagen reached out to us at MasterMover. With our 25 years of experience in creating customised material handling solutions and a proven track record in the automotive industry, we set to work in understanding Volkswagens requirements.
Recognising the challenges Volkswagen was facing, MasterMover conducted a site visit and a detailed evaluation of the application. From there, MasterMover worked with Volkswagen to create a customised coupling system that would enable the safe and secure connection to the load – without the need for modifications to their existing systems.
The Results
Safety, shifted up a gear
By introducing the MT300+, Volkswagen has reduced manual handling, improved safety and in turn, improved productivity.
With a compact machine footprint, a single operator can now easily and precisely position the bodies in the inspection booth with complete confidence. The custom coupling also guarantees total load security and provides a turnkey system to connect with a high volume of trolleys in the factory.
The collaboration between MasterMover and Volkswagen continues to grow, with existing electric tugs in use across global factories and new requirements for safer, flexible material handling equipment coming from across the Volkswagen Group.
Accelerate safety and efficiency in your automotive operations
Automotive OEMs and their tiered supply chain trust MasterMover electric tugs to improve safety and drive operational efficiency.
Whether it's the safe movement of heavy body-in-whites or the just-in-time delivery of kitting trolleys, MasterMover electric tugs help automotive manufacturers improve safety without compromising efficiency.
If you're interested in exploring how MasterMover electric tugs can enhance your operations, download our brochure, or speak to one of our experts today.