What is material handling equipment?
Material handling equipment in Charlotte makes it possible for materials, goods, and products to be moved, stored, controlled, and protected throughout the entire manufacturing, distribution, and disposal process.
Having a good understanding of available material handling equipment in Charlotte can assist in equipping your facility with the most appropriate equipment for your business. There are three main types of material handling equipment, they include Storage and Handling Equipment, Industrial Material Handling Equipment, and Engineered Systems.
1. Storage and Handling Equipment
Storage and Handling Equipment
The simplest type of material handling equipment is the shelves and racks in a warehouse where materials are stored between shipments. These racks are often designed to use vertical space to hold more items. Pallet rack, mezzanines and shelving are also part of this category.
2. Material Handling Equipment
Material Handling Equipment
These are vehicles or equipment that move materials. Sometimes workers run them, and sometimes they are automatic. Automated Guided Vehicles (AGVs) fall under both engineered systems and industrial material handling equipment.
Engineered Systems
This type of material handling equipment involves more complicated systems with multiple components, usually warehouse automation.
Automated guided vehicles (AGVs), conveyor belts and robotic delivery systems are some examples of automated systems that can make warehouses more efficient. They are automated systems that can move materials around production or a warehouse without workers having to.
This category of equipment is the most expensive, often incorporating elements from the other categories into wider more expansive systems. These systems require a lot of time and research before making an investment.
Let's focus on Material Handling Equipment.
Types of Material Handling Equipment in Charlotte, NC
There are many types of material handling equipment in Charlotte, the most popular being electric tuggers, pallet trucks, and forklifts. Let's look at each one to see how it stacks up next to an electric tugger.
Forklifts for Material Handling Equipment in Greensboro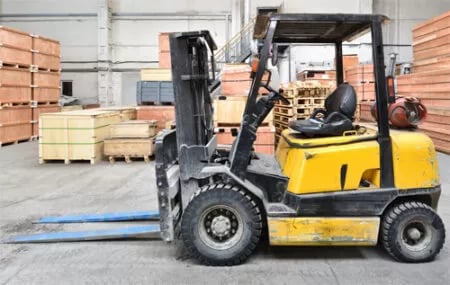 A forklift (also called lift truck, fork truck, fork hoist, and forklift truck) is an industrial truck used to lift and move materials over short distances. It has a forked platform attached at the front that can be raised and lowered to go under a pallet to lift or move it. Forklifts assist the needs of various industries including warehouses and other large storage facilities.
Forklifts can be powered by an electric battery or by a combustion engine. Some forklifts allow the operator to sit while driving and operating the machine while others require the driver to stand. Forklifts are used throughout many industries for transporting materials and goods.
While there are some benefits to forklift trucks when it comes to material handling equipment, the cons far outweigh the benefits you would gain from using an electric tugger. Let's look at some of the common uses for a forklift.
Common Uses Include:
Moving palleted goods across flat areas
Loading trucks and shelving
Lifting and stacking large items
Cons of a Forklift
They are large and require a bigger area to accommodate the turning radius
They are expensive, starting at around $25,000
They require a licensed driver to operate
Voltage requirements may be an issue with older facilities
They are not always emissions-free
Consider implementing an electric tugger into your operation. It outperforms a forklift when comparing it to the cons.
Pallet Jacks for Material Handling Equipment in Greensboro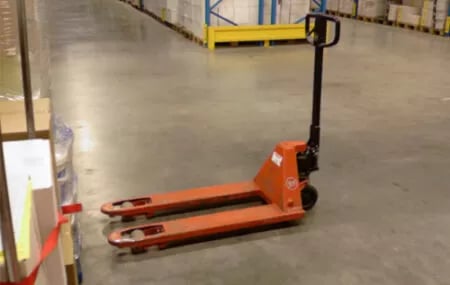 A pallet jack is a wheeled lift truck designed to raise and transport pallets. The truck's tapered forks slide underneath the pallet and a handle pump is used to raise and lower the load. These are typically backup options for a forklift because they are less expensive.
Common Uses of Pallet Jacks Include:
Moving small loads short distances
Managing basic material handling tasks
General manual handling
Cons of Electric Pallet Jacks
Requires manual handling which increases the risk of injury
They typically have a maximum standard lifting limit of 5,500 LBS
They are restricted to only palletized loads
Electric tuggers are battery-powered machines designed to move heavy loads in an industrial environment. They are available in different sizes and configurations to meet the needs of various applications. Whether moving heavy loads around a warehouse or factory, relatively short distances, or further, electric tuggers are a safe solution for material handling equipment.
Common uses for electric tuggers include:
Move heavy and/or large products, parts, or equipment with precision
Move roll containers and carts with confidence and ease in congested spaces
Safely move waste bins, including up and down slopes
Compared to forklifts or pallet trucks, electric tuggers are:
Less expensive investment cost than forklifts
Flexibility to turn in very tight environments
Zero emissions which is perfect for indoor use
No license is required and minimal training
If you're wondering whether electric tuggers can do the same job as a forklift or pallet truck, the answer is yes.
While electric tuggers aren't new to the world of material handling equipment in Charlotte, you would be surprised to learn that they can complete the same tasks as forklifts and pallet trucks. But they are easier to integrate, safer for employees, and provide far more precise movement.
Popular Electric Tuggers for Material Handling Equipment in Charlotte
Interested in learning more about safe material handling in Charlotte?
Contact us to discuss how our electric tuggers can drive safe and efficient movement of your loads...